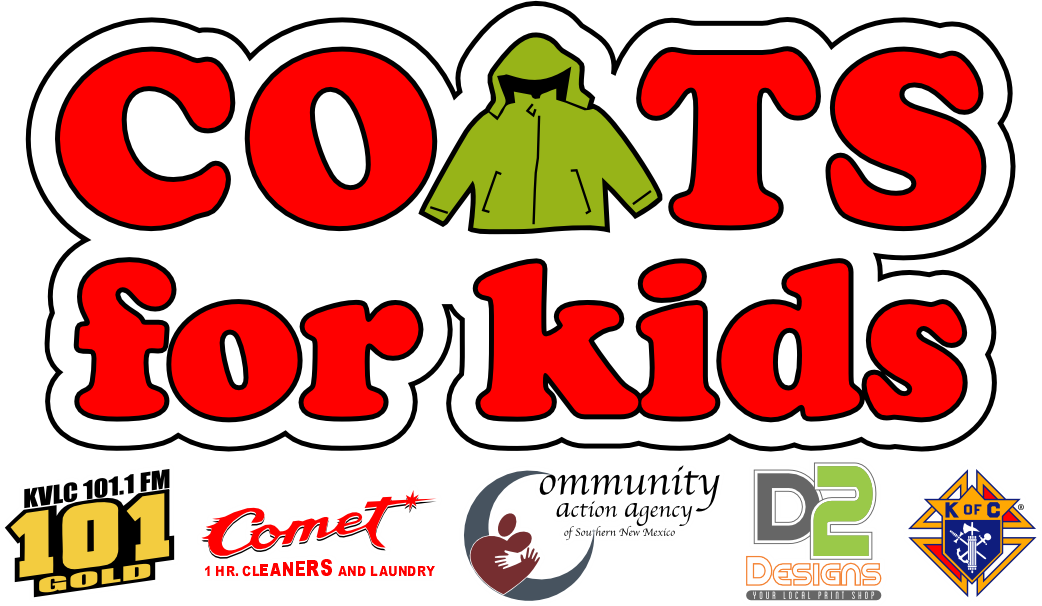 Welcome!
Your generosity will definitely make a difference to a child who is less fortunate.
Dear Friends: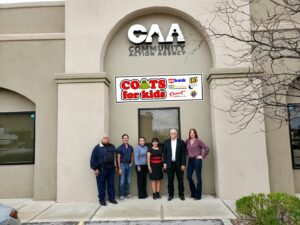 101 Gold, Community Action Agency, Comet Cleaners, D2 Designs, and Knights of Columbus sponsor the Coats for Kids program in Las Cruces to help children in our area. This is the 29th year of this program, and we have been busy!
This is a simple and compassionate project that makes a large impact in our community.
We distributed more than 3,000 coats last year, because of the generous donations of new and gently used coats, as well as the cash we received, no child is ever turned away.
Over 60,000 coats have been given to needy children in Dona Ana County, since we began this program in 1995!
Again this year, there is a special incentive to make a gift. We have received a challenge grant from the Carl. C. Anderson Sr. and Marie Jo Anderson Foundation. Your gift to Coats for Kids will thus be doubled!
As we move into the cold winter months, we know you would agree no child in our community should be without a warm winter coat. You can help us by giving a donation to the Coats for Kids program. These funds are used to purchase coats to supplement the used ones we receive. Your generosity will make a difference to a child who is less fortunate. We work closely with the Social Workers and Counselors in the Las Cruces Public Schools, Hatch Public Schools, and the Gadsden School District to help us identify children, birth through the 5th grade, who need a coat.
Please join us in making Southern New Mexico a warm and wonderful place to live and grow for all children. Please check your closets for coats to donate or mail your cash donation to Coats for Kids at Community Action Agency, 3880 Foothills Rd. Ste. A. Las Cruces NM 88011 (make checks payable to Community Action Agency). You gift is tax deductible. Thank you for your support!
With Warmest Regards,
Dawn Hommer
CEO-Community Action Agency
Chairman/Coats for Kids
Alycia Jameson
Sales Manager/Owner – D2 Designs
Campaign Coordinator/Coats for Kids
Volunteers needed to organize donation drives.